Equipment
Our laboratories have all the necessary equipment to satisfy the needs of our customers and to accomplish the deadlines that are so important to us.
Among all the equipment of Docuchem the following ones stand out:
LC-MS (Shimadzu 8050)
Coupled with one of our UHPLC system, we have our Mass Spectrometer detector Shimadzu 8050. It is based on a triple quadrupole which provides very sensitive analysis and it has APCI and ESI ionization sources.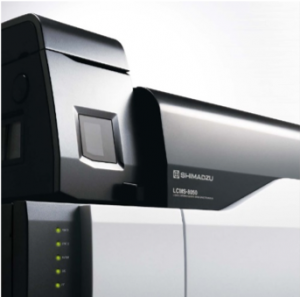 HPLC and UHPLC
Shimadzu – Nexera X2 UHPLC and Shimadzu – iProminence LC 2030 HPLC systems.
We have the following detectors available in our UHPLC systems:
PDA detector

Triple quadrupole MS detector

RID detector

ELSD detector

Fluorescence detector
Oven and automatic titrator
Metrohm: 885 Compact Oven sample changer, 916 Ti-Touch y 917 Coulometer.

With this equipment we can perform titrations following USP 541.

USP 921

I C

titrations by direct introduction or by evaporative technique.

EP 2.5.32 micro determination of water and EP 2.5.12 semi-micro determination of water.

Karl-Fischer titration following USP 921

I A

(direct titration) and following USP 921

I B

(residual titration).

EP 2.5.11 complexometric titrations, EP 2.2.20 potentiometric titrations and EP 2.2.19 amperometric titrations.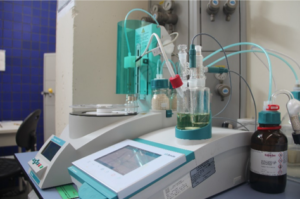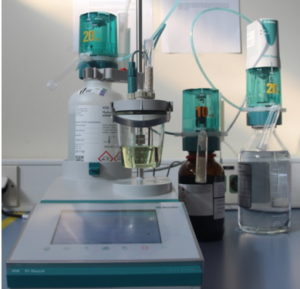 GC-FID
Gas Chromatograph Shimadzu GC-2014 with FID detector. Capillary, semi capillary and glass columns.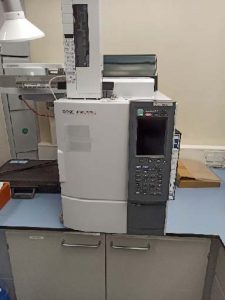 Dissolution tester
Dissolution test from Agilent Technologies 708-DS with autosampler 850-DS Dissolution Sampling Station.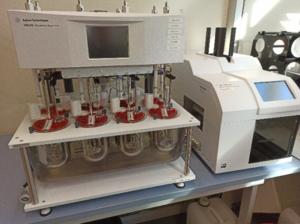 UV
UV spectrometer from Simadzu UV-1800.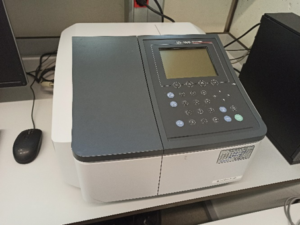 Osmometer
Micro Osmometer The Advanced™ 3300.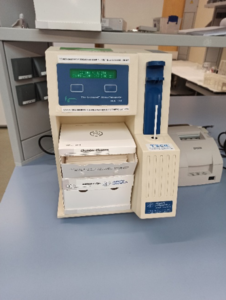 Viscosimeters
Brookfield DV-E equipped with spindles to viscosities from 5 to 2000000 cps.

Capillary viscosimeter cannon fenske type with thermostatic bath.

Capillary viscosimeter Ubbelodhe type with thermostatic bath.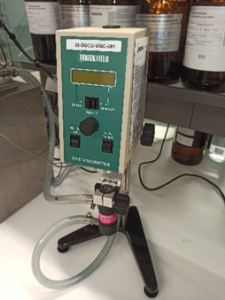 Hardness test
Hardness test Sotax/Pharmatron MultiTest50.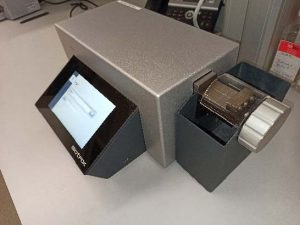 Disgregation test
Disintegration test Sotax/Pharmatron DisiTest50 Master.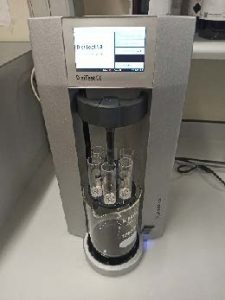 Oximeter and pH-meter
Oximeter from Hannah instruments, Edge.
pH-metro from Hannah instruments, HI122.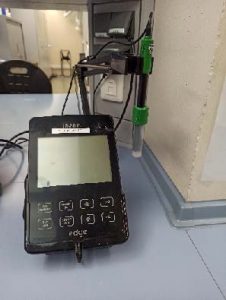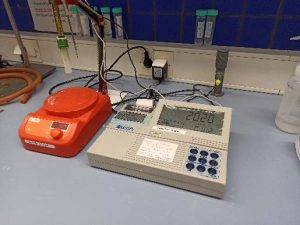 Analytical balances
Sartorius Secura 26-1s, Ohaus AX224 and Ohaus EX225D.

Our balances are annually ENAC certified and also tested as per USP minimum weight of 5 and 20mg.