Equipment
Our laboratories have all the necessary equipment to satisfy the needs of our customers and to accomplish the deadlines that are so important to us.
Among all the equipment of Docuchem the following ones stand out:
LC-MS con sondas APCI y ESI (Shimadzu 8050)
Acoplado a uno de nuestros equipos de cromatografía líquida, se encuentra nuestro detector MS Shimadzu 8050. Su sistema de detección se basa en un triple cuadrupolo que permite análisis de gran sensibilidad y cuenta con sondas de ionización ESI y APCI.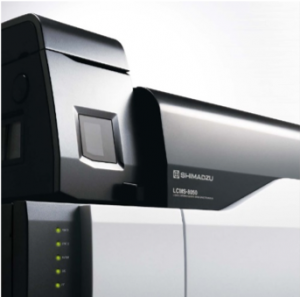 HPLC y UHPLC
Equipos Shimadzu – Nexera X2 UHPLC y Shimadzu – iProminence LC 2030 HPLC
Contamos con los siguientes detectores acoplados a nuestros equipos:
Detector PDA
Detector MS basado en un triple cuadrupolo
Detector RID
Detector ELSD
Detector de fluorescencia RF-20AXS
GC-FID
Cromatógrafo de gases de Shimadzu modelo GC-2014 con detector FID
Test de disolución
Test de disolución Agilent Technologies modelo 708-DS con 850-DS Dissolution Sampling Station.
UV
Espectrómetro UV de Shimadzu modelo UV-1800.
Osmometer
Micro Osmómetro de The Advanced™ modelo 3300.
Viscometer
Durómetro
Durometro Teknokroma MT50
Test de disgregación
Test de disgregación Pharmatron DisiTest50 Master
Oxímetro y pH-metro
Oxímetro de Hannah instruments, Edge.
pH-metro de Hannah instruments, modelo HI122.
Balanzas analíticas
Balanzas: Sartorius Secura 26-1s, Ohaus AX224 y Ohaus EX225D.
Nuestras balanzas están certificadas según los tests ENAC y, además, cuentan con la certificación de peso mínimo USP de 5 y 20mg.
Horno y autovalorador
Equipos marca Metrohm: 885 Compact Oven sample changer, 916 Ti-Touch y 917 Coulometer.
Estos equipos nos permiten realizar valoraciones según USP 541.
Valoraciones según USP 921 I C por técnica de introducción directa o con técnica evaporativa.
Micro determinación de agua según EP 2.5.32 y Semi-micro determinación del agua según EP 2.5.12.
Valoración volumétrica de Karl-Fischer según USP 921 I A (valoración directa) y según USP 921 I B (valoración residual).
Valoraciones complejométricas según EP 2.5.11, valoraciones potenciométricas según EP 2.2.20 y valoraciones amperométricas (sistemas red-ox) según EP 2.2.19.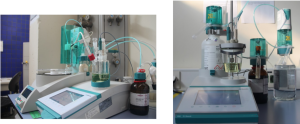 Estaremos encantados de responder a cualquier consulta o programar una reunión.
Contáctenos a través de los números de teléfono indicados a la izquierda o envíenos un correo electrónico usando siguiente formulario: